About Us
Dan Taylor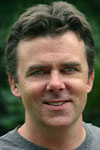 Studio360 had its start in 1997, founded by Dan Taylor, a commercial photographer with a 10 year-career.
Dan started out began shooting for design firms, ad agencies, and corporations in the 90s before the Internet was developed. As he worked with fledgling companies such as Microsoft, Aldus (now Adobe), and others, he became involved in the world of interactive media. This led to work developing interactive media for Fortune 500 companies producing DVD, kiosk, and large-screen projection environments. This work has been featured on Apple.com, the BBC, Wall Street Journal and in countless online and offline publications. You can connect on Linkedin or Travel Massive. He now manages the travel guide Destination360 and is the lead photographer.
Joe Creighton
Joe was born and raised in Northern California, studying Media Arts and Communication Design at California State University, Chico. After graduating in 2003, he moved to Seattle by 2004, joining Studio360 just a few months later.
With Studio360, Joe has worked on and managed a wide variety of large and small-scale projects. He has worked with large companies such as Expedia, Holland America Cruise Line, smaller local companies such as ski resorts, and hospitality, and on many projects of varying scale in between.